WATCH: Taylor Swift fan rushes stage in London
JUST ADDED: 5 Seconds of Summer will be rocking the stage at this year's iHeartRadio Music Festival Village in Las Vegas! The band sat down with Ryan Seacrest to break the news. Click here to buy your tickets now, before they sell out!
Listen to Taylor Swift on iHeartRadio
Taylor Swift was rushed by a frantic fan while on stage in London over the weekend — and handled it incredibly well.
SEE VIDEO BELOW
The singer was slowly walking up a staircase portion of her set when the young man bolted from the audience and ran past security, actually getting close enough to Swift to appear to give her a letter.
Swift was gracious, smiling in surprise at her admirer and shaking his hand before bodyguards whisked him away.
Check out the videos below, and tell us what you think.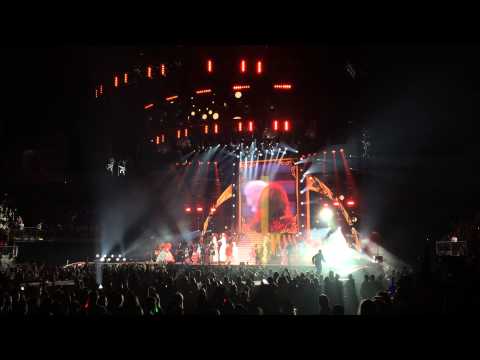 Photo Credit Getty Images